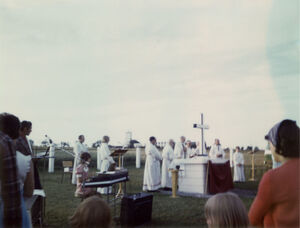 Information
Edit
Au cimetière des pionniers de Rustico, 1975. Cérémonie, célébrée par l'évêque Mgr Francis J. Spence, pour consacrer le cimetière des pionniers de Rustico, le 30 juillet 1975. Ce cimetière aurait servi à la paroisse à partir de sa fondation dans les années 1760 jusqu'à vers 1812 alors que le cimetière actuel de la paroisse fut consacré. Une clôture et une croix en bois ont presque toujours indiqué l'emplacement de l'ancien cimetière
At the Pioneer cemetery in Rustico, in 1975. This ceremony to consecrate the Rustico pioneer cemetery a second time was celebrated by Bishop Francis J. Spence on July 30, 1975. The cemetery served the parish right from its beginnings in the 1760s up to around 1812 when the actual parish cemetery was consecrated. A fence and a wooden cross have traditionally been the markers of the location of this old cemetery.
Centre de recherche acadien de l'Île-du-Prince-Édouard, Fonds Centre de recherche acadien de l'Î.-P.-É, photo 1.46.
Ad blocker interference detected!
Wikia is a free-to-use site that makes money from advertising. We have a modified experience for viewers using ad blockers

Wikia is not accessible if you've made further modifications. Remove the custom ad blocker rule(s) and the page will load as expected.