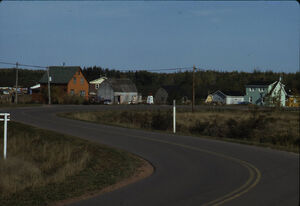 Information
Edit
Vue du coin à Saint-Édouard. Photo prise en venant de Miminegash. La maison orange appartient à Aubin (Joe) Perry. Cette maison appartenait à Léon et Françoise Perry, mes grands-parents maternels. Elle est passée aux mains de mon oncle Freddie Perry et ensuite à son fils Aubin (connu sous le nom de Joe Perry).
A view of the corner in St Edward's. Photo taken coming from Miminegash. The orange house belongs to Aubin (Joe) Perry. This house belonged to Leon and Françoise Perry, my maternal grandparents. It then belonged to my uncle Freddie Perry who then passed it to his son Aubin (better known as Joe Perry).

Cette photo fut prise par Georges Arsenault en 1982. Ajoutée au site avec son autorisation.
This photo was taken by Georges Arsenault in 1982. Added to this website with his permission.
Ad blocker interference detected!
Wikia is a free-to-use site that makes money from advertising. We have a modified experience for viewers using ad blockers

Wikia is not accessible if you've made further modifications. Remove the custom ad blocker rule(s) and the page will load as expected.