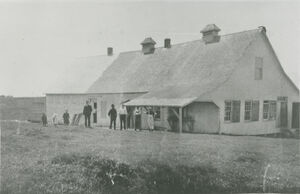 Information
Edit
La fromagerie de Tignish vers 1930. Cette fromagerie, qui desservait les fermiers des paroisses de Tignish et de Palmer Road, a ouvert ses portes en 1898 et elle a fermé en 1960. En 1899, 156 fermiers y vendaient le lait de 500 vaches.
The Tignish cheese factory circa 1930. This cheese factory, which was used by farmers in the Tignish and Palmer Road parishes, opened its doors in 1898 and closed in 1960. In 1899, 156 farmers sold milk from 500 cows. Centre de recherche acadien de l'Île-du-Prince-Édouard, Fonds Centre de recherche acadien de l'Î.-P.-É., 1.460.
Ad blocker interference detected!
Wikia is a free-to-use site that makes money from advertising. We have a modified experience for viewers using ad blockers

Wikia is not accessible if you've made further modifications. Remove the custom ad blocker rule(s) and the page will load as expected.