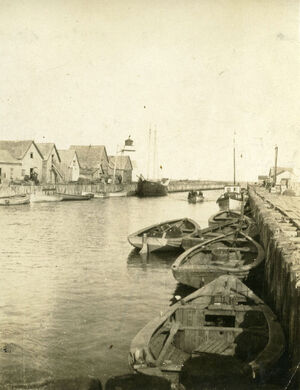 Information
Edit
Cette photo prise à partir de la Côte-à-Myrick ou du côté sud de la Tignish run montre, du côté de l'Union des pêcheurs, une belle rangée de remises pour appât ainsi que des lieux pour dormir pour les pêcheurs. Aussi, l'on peut voir les hangars où l'on salait le poisson.
This view taken from the Myrick or south side of Tignish Run shows a fine array of bait sheds and sleeping quarters for fishermen on the Fishermen's Union side. Salting sheds are also in evidence. (Gaudet, J.-Henri. Photo Historica Tignish, PEI, 1799-1999. TIgnish, 1999.) Centre de recherche acadien de l'Île-du-Prince-Édouard, Fonds Reginald Porter, 212.57.
Ad blocker interference detected!
Wikia is a free-to-use site that makes money from advertising. We have a modified experience for viewers using ad blockers

Wikia is not accessible if you've made further modifications. Remove the custom ad blocker rule(s) and the page will load as expected.