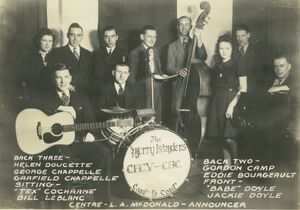 Information
Edit
The Merry Islanders est un groupe de musique de style country qui a vu le jour en 1935 sous le nom The Merry Makers. Ils avaient une émission hebdomadaire à la station de CFCY (Summerside) pour une dizaine d'années pendant les mois d'hiver. Sur la photo : L.A. McDonald, Helen Doucette, George Chappelle (le fondateur du groupe), Garfield Chappelle, « Tex » Cochrane, Bill Leblanc, Gordon Camp, Eddie Bourgeault, « Baby » Doyle et Jackie Doyle.
Ad blocker interference detected!
Wikia is a free-to-use site that makes money from advertising. We have a modified experience for viewers using ad blockers

Wikia is not accessible if you've made further modifications. Remove the custom ad blocker rule(s) and the page will load as expected.