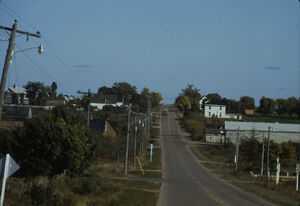 Information
Edit
Vue de Saint-Louis. Photo prise en venant de Saint-Édouard. La maison blanche à la droite était celle de Joseph et Marie-Rose Bernard. Marie-Rose (née Richard) a longtemps fait la classe à Saint-Édouard.
View of St Louis, taken coming from St Edward. The white house on the right belonged to Joseph and Marie-Rose Bernard. Marie-Rose (nee Richard) taught school for a long time in St Edward.

Cette photo fut prise par Georges Arsenault en 1982. Ajoutée au site avec son autorisation.
This photo was taken by Georges Arsenault in 1982. Added to this website with his permission.
Ad blocker interference detected!
Wikia is a free-to-use site that makes money from advertising. We have a modified experience for viewers using ad blockers

Wikia is not accessible if you've made further modifications. Remove the custom ad blocker rule(s) and the page will load as expected.